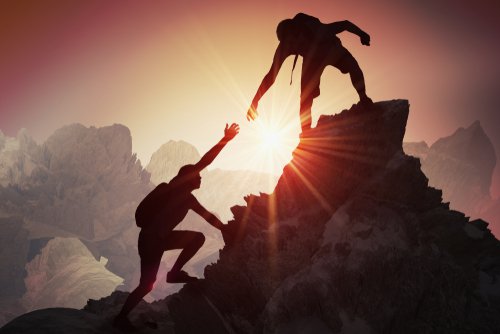 At ZestED, our mission has always been to provide men with the total support they need to live the happiest, healthiest lives they possibly can. Our incredible Men's Health Specialists bring targeted clinical expertise you won't find with your primary care provider alone -- but what about that "X factor?" What about that emotional, transformational component that motivates you to care about your health, love who you are, and make significant lifestyle changes that last?
Enter Health Coaching, an empowering new service brought to you by ZestED that's designed to take your men's healthcare to the next level. Keep reading to learn how a ZestED Health Coach can help you fill the behavioral, emotional gaps in your care, account for the "x factor," and start living to the fullest:
What Is A Health Coach?
A health coach is someone who helps a patient or client gain the knowledge, skills, tools and confidence they need to become an active participant in their own healthcare. Health coaches can help you identify health goals for yourself, then work closely with you to keep you on track throughout your customized treatment and lifestyle plan. At ZestED, our health coaches will:
Help you discover the "why" behind your desired health change, not just prescribe you with a medication based on a list of symptoms.
View you as an expert on your own body, mind and circumstances, empowering you to make lasting changes for yourself.
Assist you in identifying the specific challenges and blind spots that are preventing you from making the changes you know you want.
Actively, positively and compassionately support you in your health and wellness goals.
Hold you accountable for your actions and remind you frequently of the goals you set for yourself.
Use their broad knowledge of health and wellness to help you navigate a wide variety of health-related concerns.
Health coaches are legitimate professionals who specialize in human behavior, motivation, and health. They take a holistic approach to helping individuals make important lifestyle changes, allowing them to change their habits long-term and improve their physical and emotional wellbeing. 
How Will A Health Coach Help Me?
Even within a specialized, custom men's healthcare plan, health coaching adds a deeper dimension to your men's healthcare and can help you achieve more total, long-term wellness. Health coaches are "change agents" -- your health coach will use motivational interviewing techniques to help reinforce the plan you develop with your Men's Health Specialist. Then, they'll work alongside you to reach your personal goals. Health coaches can be especially beneficial for clients who are living with chronic conditions, such as heart disease, hypertension, obesity, diabetes, and more. These conditions don't just cause sexual dysfunction and other physical symptoms -- they can have devastating effects on your mental health, and your overall quality of life. Alongside your Men's Health Specialist and primary care provider, a health coach can offer you the guidance you need to take control, make changes, and start living the best life you possibly can.
How Does Health Coaching Work at ZestED?
As any ZestED client can attest, our goal is to make comprehensive, specialized men's wellness support as simple, accessible and user-friendly as possible. Our health coaching services will be no exception! When you sign up for ZestED, simply use our form to indicate that you're interested in health coaching. You'll then be paired with a health coach and a Men's Health Specialist as part of your wellness plan. Once you begin, your health coach will:
Clinically assess your current health condition
Work with you to develop your own personal health goals
Establish an individualized treatment plan in partnership with primary care providers and Men's Health Specialists
Provide one-on-one guidance as you begin and continue your health plan
Conduct behavior health 
Document your progress to provide clear markers during your journey
As always, our services are conducted virtually, offering you the discretion, convenience and safety of telemedicine as you begin your journey toward total men's health. We're also in the process of developing a robust, easy-to-use app that will make health coaching even more accessible to our clients. Stay tuned as we continue to use the latest technology to bring comprehensive men's health support to you!
How Will My Health Coach and Men's Health Specialist Work Together?
Your primary care provider and your Men's Health Specialist will continue to play a vital role in your total wellness experience at ZestED. After all, our Men's Health Specialists carry the clinical expertise to provide targeted treatment for erectile dysfunction, treatment for low T, and treatment for the many underlying health concerns that can be lurking under the surface of these conditions. But at ZestED, we understand that total wellness for men -- sexually, physically, and mentally -- goes beyond supplements, pharmaceuticals, and standard medical treatments that only address the sexual dysfunction at hand. A health coach will help you take your healthcare to that vital next level, providing the day-to-day support and guidance that most medical doctors have neither the time nor training to provide. Your health coach will work directly with your primary care physician and your ZestED Men's Health Specialist, developing a full understanding of your health and offering you comprehensive, seamless care.
Health isn't just about your body -- it's about your mind, your feelings, and your connection to those who are there to support you on your journey toward taking control of your wellness. In partnership with our Men's Health Specialists and your primary care doctor, our Health Coaches will help you tap into those elements of your health, standing with you one-on-one at every step.
If you're interested in Health Coaching or have more questions for us, don't hesitate! Begin filling out your client form and Get ZestED today.