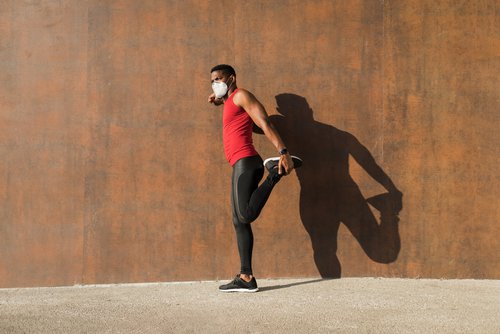 As the whirlwind year that has been 2020 winds down to a close, we might take an opportunity to reflect on some of the most fundamental ways the COVID-19 pandemic has affected our lives. One of the most commonly discussed impacts of COVID-19 is a broad one: the disruption of our routines, including those surrounding exercise and physical fitness. Routine is essential to creating and maintaining an exercise regimen, and COVID-19 restrictions have spelled disaster for the man who faithfully takes a trip to the gym at the same time each day. 
If that man is you, and you've been struggling for months to get moving, what can do you about it while still staying safe? At ZestED, we know that your fitness routine is important to many aspects of your physical and mental health that can't afford to fall by the wayside. Here are four tips for staying active for the duration of the pandemic, even when the gym may not be a safe option: 
1. Get Outside and Exercise
If the gym has always been your number one go-to location for exercise, it can be heartbreaking to see the news that your favorite spot has been closed due to COVID-19. On the positive side, however, this difficult time can serve as an excellent opportunity to explore new spaces for exercise, particularly in the great outdoors! If you live in a city, many parks and trails remain open for walkers, joggers and runners to get in their daily cardio -- just be sure you're aware of those around you and practice appropriate social distancing, as COVID can still spread outside! 
If you live in a more remote area, the world is your oyster, and the opportunity to exercise outdoors becomes potentially more exciting. Enjoying some time alone just focusing on your body and the nature around you can even become a meditative experience you simply won't get on a machine in the gym.
2. Try Going Equipment-Free
When the gym and all the equipment it provides becomes an integral part of your fitness routine, you may lose sight of some of the more basic (but effective) techniques that make up an equipment-free workout. Some of our favorite classics include:
Pushups
Squats
Crunches and curl-ups
Lunges
Planks
Be sure you have a supportive surface below you while you use these techniques, and feel free to use objects around you (such as chairs and tables) for support as long as they're stable!
3. Take Advantage of Technology
Another of the resources you may be missing if your usual gym has closed is the opportunity to join a class and work out with your peers. Whether it's the competition or the camaraderie (hopefully both!), many men are motivated by such a setting -- you may have even made some real friends at the gym, friends you may be missing during the lockdown. If this describes your experience, you're not alone, but there are things you can do about it. 
We're fortunate to live in a time when connecting with others is easier than ever: reach out to your buddies and schedule a regular time to work out together at home. If you're not much of a gym conversationalist and heavy breathing in front of a camera doesn't sound like your thing, you can still involve your pals in your workout -- initiate a group chat where you all share your goals, report your results, and cheer each other on just as you would in a class.
4. If You Must, Wear a Mask
If you absolutely must visit the gym, please be sure you're abiding by all COVID-19 safety guidelines, not just for your own health but for the health of those around you. Medical professionals have determined that it is safe to wear a mask while working out -- while breathing heavily with a mask on may feel different than your usual sensation, you're not actually being deprived of any oxygen. It's not just about the mask, either: be extra diligent in wiping down your equipment with antiseptic and sanitary wipes, either provided by your gym or brought with you from home. 
If you have concerns about how COVID-19 may affect you specifically as a man, or you'd like some guidance in developing your at-home fitness routine, it's important to reach out to a medical professional for help. At ZestED, our specialized men's health Care Coordinators will discuss your concerns with you one-on-one, offering individualized advice that is tailored to your goals.
Don't let the uncertainty surrounding COVID-19 keep you on the bench and out of the fitness game. Visit our website, reach out to our men's health specialists, and Get ZestED today.