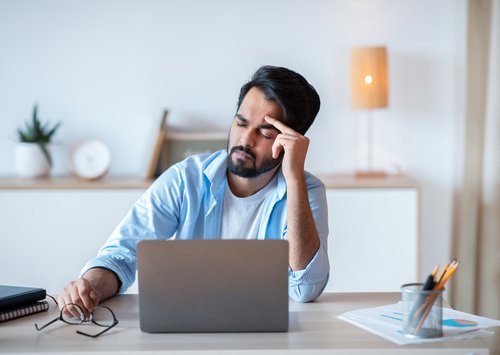 When we think about health concerns that strongly affect men, stress may not be one of the first things that come to mind. But the reality is that prolonged stress can be extremely detrimental to a man's quality of life, and can put him at risk for a number of conditions such as hypertension, mental illness, and even erectile dysfunction.
The team at ZestED wants men to know that managing stress isn't just about feeling relaxed -- it's about creating a lifestyle that is healthy and balanced in all possible ways. Here are three tips from us on creating a healthy, low-stress environment for yourself, even in these difficult times: 
Keep Up With Healthy Routines
Understandably, COVID-19 closures and regulations have made it difficult for some men to maintain the routines that keep their minds and bodies healthy -- but sticking with a lifestyle that focuses on wellness in a number of important areas remains important to helping you maintain your stress levels on a regular basis. Even if your gym is closed, there are plenty of ways to maintain an effective exercise routine at home (we've even talked about it in our previous blogs!), and getting the appropriate amount of sleep each night is vital to waking up ready to face the day effectively.
Become OK With Losing Control
As a result of intense societal expectations, many men struggle with the idea that they don't always have a say over their surroundings, leading to increased levels of stress and difficulty coping with life events that feel chaotic, unexpected, or uncontrollable. The fact is, unpredictability is a part of life, and it's not always your responsibility to take it by the reins -- sometimes, you have to accept that things are the way that they are, and try to make the best of your situation. If you have trouble centering yourself and deescalating your stress levels during moments like these, you may want to try mindfulness exercises. Just find a quiet place where you can separate yourself from the circumstances you find upsetting and practice some of these techniques.
Address Underlying Issues
Although stress is often the result of outward circumstances acting upon us, it can sometimes be a symptom of underlying problems bubbling up to the surface. If you're finding it more difficult to cope with day-to-day inconveniences and hardships than you used to, you're not "thin-skinned" -- you may be living with unaddressed mental health concerns like anxiety or depression. The longer you leave these problems untreated, the worse they can become, so it's important to share your feelings with your loved ones and potentially seek counseling as soon as you possibly can.
At ZestED, we know that it's just as important for men to maintain a healthy mind as it is for them to maintain a healthy body. Our highly-trained Men's Health Specialists and Health Coaches can help you create a comprehensive men's health plan that can help you cope with stress, and even address any underlying issues that may be reducing your quality of life.
Don't wait to get the men's health guidance you deserve. Stay safe, stay well, and Get ZestED today!