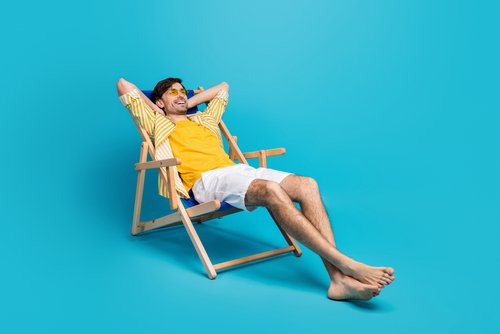 In our previous blogs, we've discussed the ways in which stress can take its toll on a man's sexual health, as well as his overall health and wellbeing. But as Men's Health Month leaves us behind for another year, we may start to wonder -- how exactly is a man supposed to relax?
The team of Men's Health Specialists and Health Coaches at ZestED wants men to know that Serenity Now is more than just a mantra -- it's something you deserve, and something that's important to your health! Here are some ways you can treat yourself and relax, during the summertime and all year round:
1. Step Away From Stressors
One of the most difficult aspects of trying to manage stress is the fact that for the mast part, the things that are causing it are out of our control. For many men, persistent stereotypes and societal expectations mean that feeling a loss of control can be scary and frustrating, which only works to compound their stress response. One of the best things you can do for yourself in this situation is to learn when to step away! In some cases, this may be metaphorical -- for example, asking for help or delegating a frustrating work task. In others, you may need to literally, physically remove yourself from the situation. That's okay! Whether you're just leaving the room or taking some well-earned PTO, there's no reason to feel ashamed of the responsible steps you're taking to cope with your stress.
2. Try Something New With Your Body
Whether you're a super active guy with a religious fitness routine or you're a card-carrying Couch and TV Enjoyer, deviating from your usual form (or amount) of physical activity can sometimes be just what the doctor ordered when it comes to stress management. Movement-based arts like yoga and Tai Chi are actually designed to help you center your mind, take close control of your body, become attentive to your breathing, and ultimately enter a relaxing state of focus, all while improving your strength and balance. These types of exercises are generally accessible to everyone, and many men even find friends and community by participating in group classes.
3. Express Yourself
When was the last time you created something? We're not talking about spreadsheets or memos -- we're talking about art, crafts, writing, and other forms of creative expression you may not be making much time for during your busy life as a grown man with responsibilities. While your life is certainly something to take seriously, many men take it too seriously, forgetting the importance of creativity to their overall health and wellness. You don't need skill to make something -- if you've always been interested in art, try going on YouTube and following a guided paint tutorial. If you've got pent-up thoughts, open up a blank journal and see what happens. If you like working with your hands, dream up a new yard project or read up on a hobby like woodworking. Your body and your brain will thank you!
At ZestED, one of the core tenets of our philosophy is that men's health is multi-faceted, and a comprehensive men's healthcare plan addresses the health of both mind and body. If you need guidance in building a lifestyle that allows you to stay happy and healthy in every way, our Health Coaches can help you establish and stick with the perfect plan for you!
Don't wait to get the men's health guidance you deserve. Stay safe, stay well, and Get ZestED today!